A 15-course tasting menu experience.
Let our Chef-Owner George Brannon entice your tastebuds with a brand-new menu of eclectic tapas served each evening in a city-chic setting. Designed for both those in search of a curated culinary adventure and those who simply don't know what they're in the mood to eat, well-trained staff deliver 15 small plate courses with perfect timing at Shamone. While the menu is set, we'll gladly accommodate allergies – just let us know your needs when making your reservation.
BYOB | Cash Only
We are unable to accommodate children.
7pm seating every night
$45 per person

Unlimited Brunch every Thursday – Sunday
8:30AM – 1:30PM
$15 per person
316 Beach Avenue Cape May, NJ 08204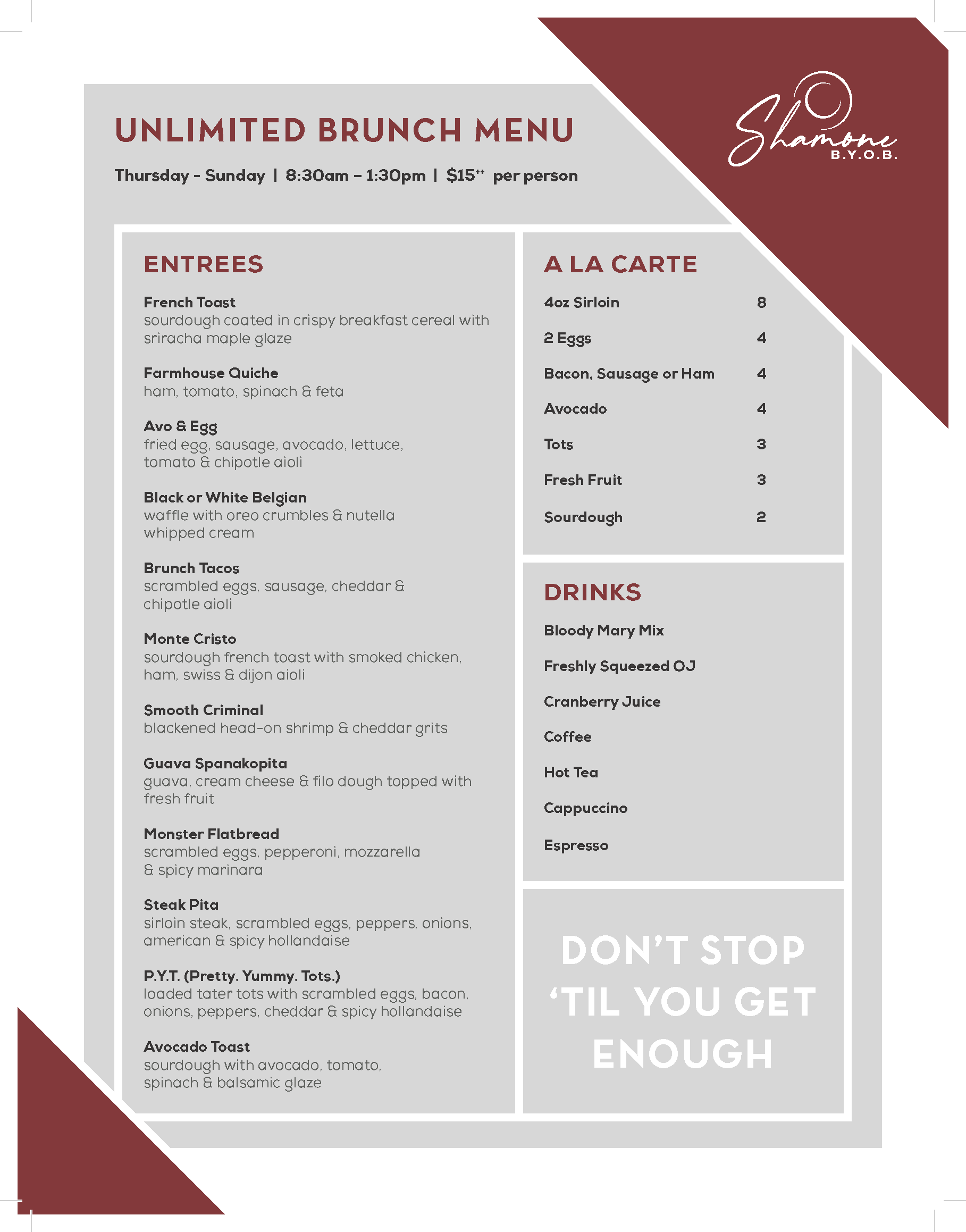 Menu
Shamone offers an elevated dining experience unlike any other. Perfectly designed for those evenings when you're either feeling adventurous or simply have no idea what you're in the mood for, Chef/Owner George Brannon develops a brand-new 15-course tapas-style tasting menu every night! Some favorite dishes of the past have included:
Smoked Salmon Tacos
Tabbouleh Salad
Black Bean Hummus
Chimichurri Flank Steak
Seared Scallops
Goat Cheese Crostini
Caribbean Jerk Chicken
Shrimp Legon
Sweet Corn Succotash
Mahalo Noodles
Tuna Tartare
Scallop Ceviche
Irish Pub Dip
Lamb Keftas
Salmon En Croute
Spanish Gazpacho
Tuscan Flatbread
Spiced Pork Ribeye
Turkey Caprese Slider
Avocado Deviled Eggs
BYOB | Cash Only
We are unable to accommodate children.
7pm Seating every night
Unlimited Brunch every Thursday – Sunday
8:30AM – 1:30PM
For Reservations click here